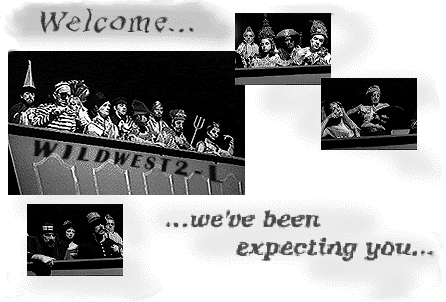 Welcome to WILDWEST2-L Territory
WILDWEST2-L : the Wildest 'netfolk in the West

Exclusively devoted to The Wild, Wild West





--- +++ ---
INTRODUCTION

WILDWEST2-L is the active on-line society for aficionados, friends, fans, and alumni of the coolest television series ever, The Wild, Wild West, which ran on CBS from 1965-69 and lives on through our mutual shared passion for Secret Service special agents James T. West and Artemus Gordon. WooHoo!

Anyone who enjoys The Wild, Wild West, is automatically a member of WILDWEST2-L if they so desire. Read on to see what wild activities other W2-L members partake in and enjoy...










--- +++ ---
WILDWEST2-L ACTIVITIES


THE 2001 CARIH FUNDRAISER

WILDWEST2-L is organizing the 2001 CARIH Fundraiser between now and 3/22/01. Your help is desperately needed.

In March 2000, WILDWEST2-L instituted an annual fundraiser for a charitable organization very important to Wild, Wild West co-star Ross Martin -- the Children's Asthma Research Institute and Hospital.

The inaugural fundraiser was a huge success, and also held a pleasant surprise for us all...



THE AG: THE WILD, WILD WEST ANNIVERSARY GATHERINGSM

September 17th, 1995 marked the 30th anniversary of The Wild, Wild West. Folks held a celebration during the weekend of September 15-17th, in the Los Angeles area. Many cool folks from the programme came, ate, talked, and partied down. Since then, W2-Lers have held an annual event each September. Past photos, annecdotes, and event details can be seen on our AG Photographs & Memories pages.

The 1999 AG was the last annual event planned. But when Ross Martin receives his Star on the Walk of Fame (see above), everyone will be invited to the wild, wild party.



CATALOGUE COLLECTION PROJECT

The family of Ross Martin lost their entire collection of his work to a home burglary just months before RM passed away. W2-Lers are replacing as many of these fine performances for his family as possible. Check out our Catalogue Collection Project page for the current status of this project.



ORIGINAL WILD, WILD WEST FICTION

The adventures of way-cool Secret Service agents James T. West and Artemus Gordon continue! Original Wild, Wild West stories by W2-Lers appear on our Fiction Page.









--- +++ ---
W2-L WEB PAGES

WILDWEST2-L has two major web pages in our W2-L family.

www.WildWildWest.org aka "The Wildest Page in the West" (this page)

web master: admin@ThirdSide.com

W2-L's main support page. Contains current W2-L projects, contests, articles, AG annecdotes and photos, cast and crew bios, etc... Regularly updated and always under construction. Please check this page often for the most current W2-L material.



mall.turnpike.net/~SABINE/wwwest.html aka "The Wildest Home Page in the West"

web master: Elder Nelson nfink@delphi.com

The W2-L achives and information page. Contains TNT schedules, episode reviews from past and present group members, FAQs, "lost" episodes, and more.








--- +++ ---
W2-L "AFFILIATIONS"

As fans of the series, W2-Lers often divide up into good-natured "camps" to debate the merits of Jim's tight pants or Artie's disguises. Which group are you in?

To help with your decision, check out each group's rites and initiation document.




S.A.S.S. - Seriously Appreciating Stunts and Shirtlessness Head SASSae is Lady Luck


TCoA -The Church of Artemus High Priestess is Trail Mix


CoM - The Cult of Miguelito Grand High Mucky-Muck is Slye Fox





---