1997 AG SUMMARY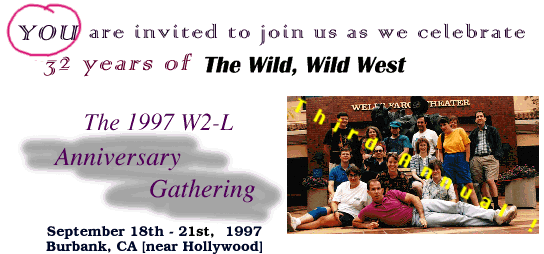 photo © Major Steve
Featuring a special stunt seminar by longtime Wild, Wild West stunt coordinator and industry mainstay Mr. Whitey Hughes !
---
go to the AG '97 PICTURES PAGE
General Information
The 1997 AG Committee
AG committee head is Ms. Susan Deborah Smith
AG Go-fers - Julie Kredens, Wendy Luck, Kristin Sabo

AG Go-fer contact/address: Jim-n-Artie@ThirdSide.com
Logistics
| | |
| --- | --- |
| WHEN: | September 18th - 21st 1997 |
| WHERE: | AG HQ - The Safari Inn , Burbank CA and environs |
The Appreciation Dinner
This year, our annual Appreciation Dinner will be held September 20th, 1997 at the Uzbekistan Restaurant - an LA Times Top-10 winning restaurant. Uzbekistan features a number of excellent Russian dishes using a variety of meats, vegtables, and spice-content. There's something for every taste. The dinner theme will be "The Night of the Tartar". Our Guest of Honor is "James T. West". Dinner starts at 6:00 pm with a huge amount of exotic hors d'oeuvres. Expect music, dancing, talk, and lots of laughs.
List of Invited Alums
Principals
Makeup/Costume
Production
Robert Conrad
Mrs. Ross Martin
Don Schoenfeld
Jack Muhs*(dec)
Jim George
Bruce Lansbury
John Mantley
Joe Kirby



Guest Stars
Direction
Writing
John Astin
Carroll O' Connor
Richard Kiel
Don Francks
Leslie Nielsen
William Campbell
Henry Darrow
Ricardo Montalban
Donnelly Rhodes
Dabbs Greer
Hazel Court
Katherine Ross
Marj Dusay
Sue Ane Langdon
Karen Sharpe
Mala Powers
Peggy Gaston
Beverly Garland

Alan Crosland, jr
Robert Sparr*(dec)
Rick Sparr for (R. Sparr)
Richard Donner


Series Bible
Sue Kesler


Editing
Alan Jaggs**


**our deepest apologies to Mr. Jaggs for our inadvertent, incorrect status listing for him.
Henry Sharp
Ken Kolb
John Kneubuhl, jr (for sr)
Steve Ullman (for Dan Ullman)
Calvin Clements, jr (for himself, & sr)

Music
Dick Shores
Mrs. Richard Markowitz


Stunts
Whitey Hughes
Red West
Bob Herron
Tom Huff
Bill Catching
Richard Cangey
Schedule of Events
Date
Event
Info
THU 9/18
Meet n' Greet Bar-B-Que and Screening

meet the people face to face with whom you share a common bond: The Wild, Wild West! Great food, music, then wander across the street to our reserved USC Screening Room and view two eps of our favourite programme theatre-style.



Dinner 6:00 PM Screening: 9pm
FRI
9/19
Gamblers' Choice:

1. Attend a special presentation and viewing of the Ross Martin Special Collection, housed in USC's special collection archives.

2. Take the special behind-the-scenes of the Gene Autry Museum of Western Heritage

3. whatever tickles your fancy. Universal Studios is just down the freeway from AG Central, as is Disneyland, Magic Mountain
10 AM
Poker Party, Dinner, and Midnight Hike

Enjoy a cool night-hike in the S. CA desert mountains plus good food and great poker. Bring your stake!



6:00 PM
SAT 9/20
Whitey Hughes Stunt Seminar

Join the Wild, Wild West's stunt coordinator in a once-in-a-lifetime opportunity to learn & participate in the stunt trade.
10 AM
The Wild, Wild West Appreciation Dinner

Join us at the atmospheric Uzbekistan Restaurant for fun, food, and frivality as we say "thanks" to all those who made Our Favourite Programme possible.
This year's theme: "The Night of the Tartar"
GUEST OF HONOR: "James T. West"



6:00 PM - 10:30 PM
SUN 9/21
Horseback riding in Griffith Park or sightseeing in Los Angeles/Hollywood - your choice.

You never know who might join us for the ride.... Horseback ride to be followed by a farewell picnic in Griffith Park, we'll just order food from a nearby Glendale fast-food place.



1 PM
---