One could easily imagine Mike Masters as the burly brute who runs down the beach and kicks sand into the face of the 98-pound weakling. The truth of the matter is, however, that the chap with the frail frame could sandblast Mike without any fear of physical damage.

Mike Masters, probably one of the most rugged actors in movies and television today, saves all his physical exertion for his numerous screen roles and would rather spend his free moments discussing music, philosophy, hypnotism, literature and -- most of all -- acting.
A blond six -- footer, who goes 195-pounds in weight, Mike has emerged as one of the most chameleon-like actors to hit the Hollywood sound stages in many years. He can swing with ease from the role of a brutal top sergeant to a mild-mannered clergyman and give both roles total and believable impact.
"He's an amazing person," admited former Academy Award nominee Nick Adams. "One moment he looks like he's doing Hercules and the next time you see him you think of Andy Hardy. His dramatic range -- comedy to drama -- is tremendous."

Because of his excellent physical condition, Mike has in the past been called up for roles that call for red meat action. And because he is in tip top shape he has never used a stuntman. "If I'm hired for a role and have to fall off a horse then it's me taking the fall," Mike explains. "I'm a big boy now. I don't worry about getting hurt."
Yet it was for these very reasons that Mike turned down a dozen rough and tumble roles for a solid year. He wanted to start off with parts that would reveal his acting ability.
There were some lean days for Mike and his wife and three kids, but he proved his point in such fine movies as Seven Days in May, All Fall Down, Walk On The Wild Side, as well as Seconds and Our Man Flint.
Mike gets parts of all kinds, and particularly enjoys off beat characters with a lot of depth. He loves to research them and portray them, ranging from the highly neurotic modem man to the freedom of the Wallace Beery western.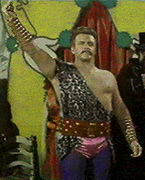 In addition to his movie roles, Mike has, at one time or another, romped through some 300 televisions roles -- everything from December Bride, and The Jane Wyman Show to the rugged M Squad, The Wild Wild West and Gunsmoke. He also appeared in what he terms "acting -- plus" roles on "Playhouse 90" and "Studio One".
Mike feels he brings authority and authenticity to every role he portrays because his life, which began on the south side of Chicago, took him to Europe with the army, had him kick around the country as a "professional wanderer", and then had him attack the high, cold walls of show business. "Something rubs off on me -- from every experience", states Mike.
"I've played junkies, drunks, stickup artists, con men, politicians, doctors, -- -- and once I played a restaurant chef -- because I'm a person who does a lot of observing," Mike states. "I study people and their ways the same way the scientist studies a specimen -- through a magnifying glass."
Mike admits to having rubbed shoulders with all types of people in all types of places and all types of situations. "I try to go for the depth in people's characters and discover the scars that have been added since their pure naked birth", he adds. "As a competent actor I feel I have to come into contact with people from all walks of life. People are not black or white -- just many shades of gray.

If a description of his acting ability had to be pinned on him, Mike feels that 'a character lead' should fit the bill. "I like to think that I'm remembered off the screen after I've been on the screen," he smiles. "I like to think that the viewers think about the role I played -- whether they liked it or not. But I like to make them think."
During his shoulder rubbing days with life, Mike has been a dog trainer, radio announcer, fencing enthusiast, musician, A.A.U. champion wrestler, lumberjack, lifeguard, and worked as a veterinarian.
He was married to Marilyn Danielsen, a former model -- actress, and they had three children -- Robbie, Kim, and Mike. They lived on a small ranch way outside Hollywood which was the nearest thing to a zoo this side of a zoo since the non-human population consists of six horses, 20 goats, 10 Great Danes, 25 pigeons, five cats, a tortoise, Mynah bird and some rabbits.
Mike is an army veteran. He served at the 28th General Hospital at Croix Chapeau in France during the Korean War. The men, suffering physical and mental wounds, were treated at the hospital and it was here that Mike developed a "hypnotic-therapy" approach to caring for them.

"I mastered hypnotism to put the patients to sleep," he recalls. "That was what they needed more than anything. To sleep and forget. I teamed how to 'rehabilitate' muscles they had lost the use of because of wounds or long spells in bed. I learned a lot from those guys. I learned what courage was because I saw cases of it before my eyes every day.
Mike admits his family came before his career and that they spent a lot of time at the beach when they are not riding about the countryside on their horses.
"I don't know what a father I am to them," he admits. "I tried to teach them kindness, responsibility, a sense of proportion and what is right and wrong. Most of all I drummed into them 'know thy self'."