As a producer-writer, Bruce Lansbury began his career with ABC Television Network's flagship station in Los Angeles, later producing the WILD, WILD WEST (1966-69) and MISSION IMPOSSIBLE (1966) series for CBS.
During stints in management, he worked in program development for CBS in Los Angeles, subsequently becoming Vice President, Programs, for the network in New York.

At Paramount Television, he was Vice President, Creative Affairs, overseeing numerous pilots and movies of the week and the development and production of such series as THE ODD COUPLE (1970), LOVE AMERICAN STYLE (1969), MANNIX (1967), LOVE STORY (1973), THE BRADY BUNCH (1969), PETROCELLI (1974) and HAPPY DAYS (1974). He received 'created by' Credit on two series, THE BARBARY COAST (1975) and THE MAGICIAN (1973).
Returning to producing, at Columbia, Lansbury developed six pilot films and created the series, THE FANTASTIC JOURNEY (1977), thereafter serving as Supervising Producer on Warner Television's WONDER WOMAN (1976) for two seasons, subsequently moving to Universal as Supervising Producer on BUCK ROGERS (1979).
During this period he developed and produced the four-hour miniseries, WORLD WAR III (1982), starring Rock Hudson, Brian Keith, David Soul, Cathy Lee Crosby and Katherine Helmond. This special placed in the top ten in national Neilson ratings.
He was Executive Producer on the NBC series, THE POWERS OF MATTHEW STAR (1982), starring Lou Gossett Jr. and Executive Produced under his own banner the CBS television movie, SUMMER GIRL (1983), starring Kim Darby, Barry Bostwick, Martha Scott, Murray Hamilton and Diane Franklin, which placed among the top three movies for television that season. Concurrently, he Executive Produced the independent theatrical motion picture, THE INITIATION (1984), which introduced Daphne Zuniga to the big screen and featured Vera Miles and Clu Gulager.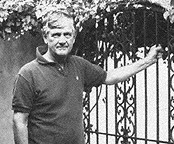 Lansbury was co-creator and Supervising Producer on the Universal-ABC series, STREET HAWK (1985), following which he was Supervising Producer on the Universal-NBC series, KNIGHT RIDER (1982). He was Executive Producer on the TV movie A STRANGER WAITS (1987), starring Suzanne Pleshette, a top-rated picture for CBS, for which he wrote the original story. Thereafter, he shared story credit and was Supervising Producer on the Universal-NBC movie, THE RETURN OF THE SIX MILLION DOLLAR MAN AND THE BIONIC WOMAN (1987), starring Lee Majors and Lindsay Wagner.
In 1990-97, Lansbury co-wrote and co-produced I'M DANGEROUS TONIGHT (1990) for USA Cable Network, wrote eight episodes for ZORRO (1990) and SWAMP THING (1990), completed two theatrical screenplays, PLAY DEAD and BLOOD MOON, and served four seasons as supervising producer on MURDER, SHE WROTE (1984), writing 15 episodes and a two-hour MOW based upon the series.
Lansbury is a member of the Writers Guild of America, the Producers Guild of America and the Caucus of Producers, Writers and Directors.
Update 7/18/01 : Bruce is currently finishing a two-hour MURDER, SHE WROTE which will be shot in Ireland if and when the go-ahead to produce it comes through. It is being done through his sister's (Angela's) company Corymore Productions and USA Network for CBS. His next writing project is a Movie of the Week entitled SHE BEAR, which he is just starting. Bruce and his wife Gail are very much involved in finishing a big lakeside house in the California Sierras and are learning how to fly fish.